Aloha ABC Studio Division Tutor Notes
【Before lessons】
1, Check your student info
To check student info : Teacher log-in and go to

 'Students' tab
You can always check their level or purpose of studying, preference from Tutorpanel Student list when you log in to your Teacher account (not staff account).
Beginner Level 0.
– The students who have no knowledge of the language. They are classified in two groups: absolute beginners, who have had no previous contact with the Target Language; and, false beginners, who have already been exposed to the language in a passive way or have studied in the past. In both cases please speak slowly, use as easy words as possible and if you can, speak Japanese as well.

Level 1.
– The student understands basic phrases and instructions used in specific situations. He/she can interact in a very simple way and uses incomplete sentences, without real grammatical content. As same as the beginner level, please speak slowly, introduce new vocabulary, idiomatic and useful expressions but don't emphasise grammar points.

Level 2.
– The student can introduce him/herself and others; can ask and answer questions about personal details such as where he/she lives, people he/she knows, and things he/she has. Students still are shy to talk and have no confidence about their abilities, so please encourage the students to have simple conversations and work on his/her confidence to speak in English.

Level 3.
– The student can produce simple connected text on topics which are familiar or of personal interest; can describe experiences and events, dreams, hopes & ambitions and briefly give reasons and explanations for opinions and plans. On this level please continue teaching new expressions and more vocabulary according to their own interests. Also work on his/her confidence to speak in English where it is needed.

Level 4.
– The student understands everyday language and the main ideas of some complex text. Despite making some grammar and spelling mistakes, he/she can write and speak with a degree of spontaneity.

Level 5.
– The student can understand almost everything, including idiomatic expressions. He/she can produce complex texts and uses the language effectively for professional, academic and social purposes. Inspire them with various topics about, life, business, culture, etc.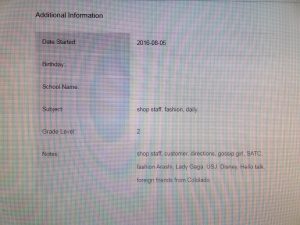 To see previous lesson reports : Staff log-in and go to
'Files' tab
please check their previous lesson reports on Tutorpanel calendar "file" page (you need to log in with staff account).
Please avoid the questions below:
•How long have you been studying?
•Why are you studying English?
if you need those answers, please always ask us beforehand, please do not ask students.
They don't like to be asked same questions over and over again.
2. check time and room number
You can check your room number on Tutorpanel Calender.
If it isn`t showing yet, click the refresh button.
Please get your key at the reception.
Tell them our ID number:12001208 and your room number.
You can get your key up to 10 min before your lesson.
<code>
704 …pls get 704 key
704○…704 is open
704■…pls leave the 704 door open after you finished
3. Put the school sign in front of your room
If you forgot yours, you can find one in the paper bag. (It's usually in front of 704 or otherwise at the reception.)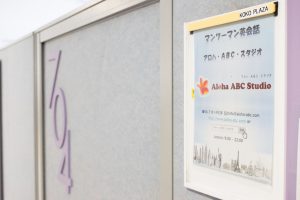 4. Find your student at the bench when the lesson is due to start.
Don't start lessons before your lesson time.
---
【Lesson flow】
1. introduction / ice break
-ask about their work, travel plan, places they've visited.
(Please avoid too personal questions.)
2. check homework (5 min)
3.Enjoy conversation
Have a fun conversation with students,
and teach them a lot of new vocabulary & new phrases throughout the conversation.
Make use of the whiteboard when you teach and strive to include as much beneficial content as possible for students.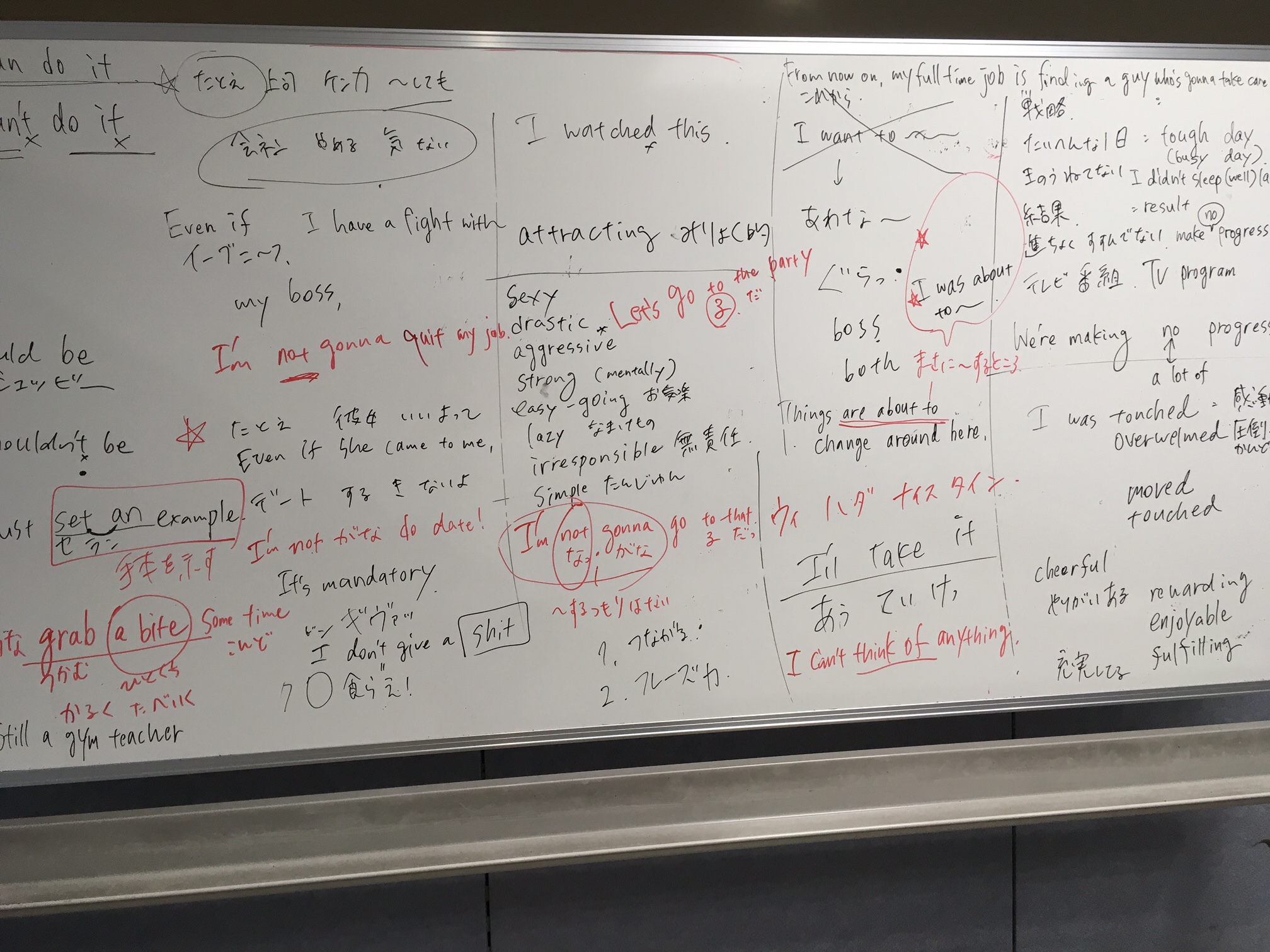 4.teach them some useful phrases.
"Can I have this?"
(restaurant, shopping, business, anytime)
5. Sum up paper time (last 10 min)
Give them homework,
and check the next lesson date.
---
【Lesson booking】
Booking starts every month 15th.
◆Day time max 2 lessons (9:00 ~15:30) at the same time
◆Night time max 4 lessons (19:00~22:00) on Weekdays
(Wednesday 6 lessons Max )
◆Weekends
Sat max 3 lessons
Sun max 2 lessons
(weekend no lesson at night as much as possible)

※Thursday and third Wednesday (school off)

please make sure to write their level and subject as well.
<their name-level-subject >NG: Chinatsu
OK: Chinatsu-w, 2, shop staff

※ "★" means this student appoint only Japanese teachers
---
【Register lesson appointments】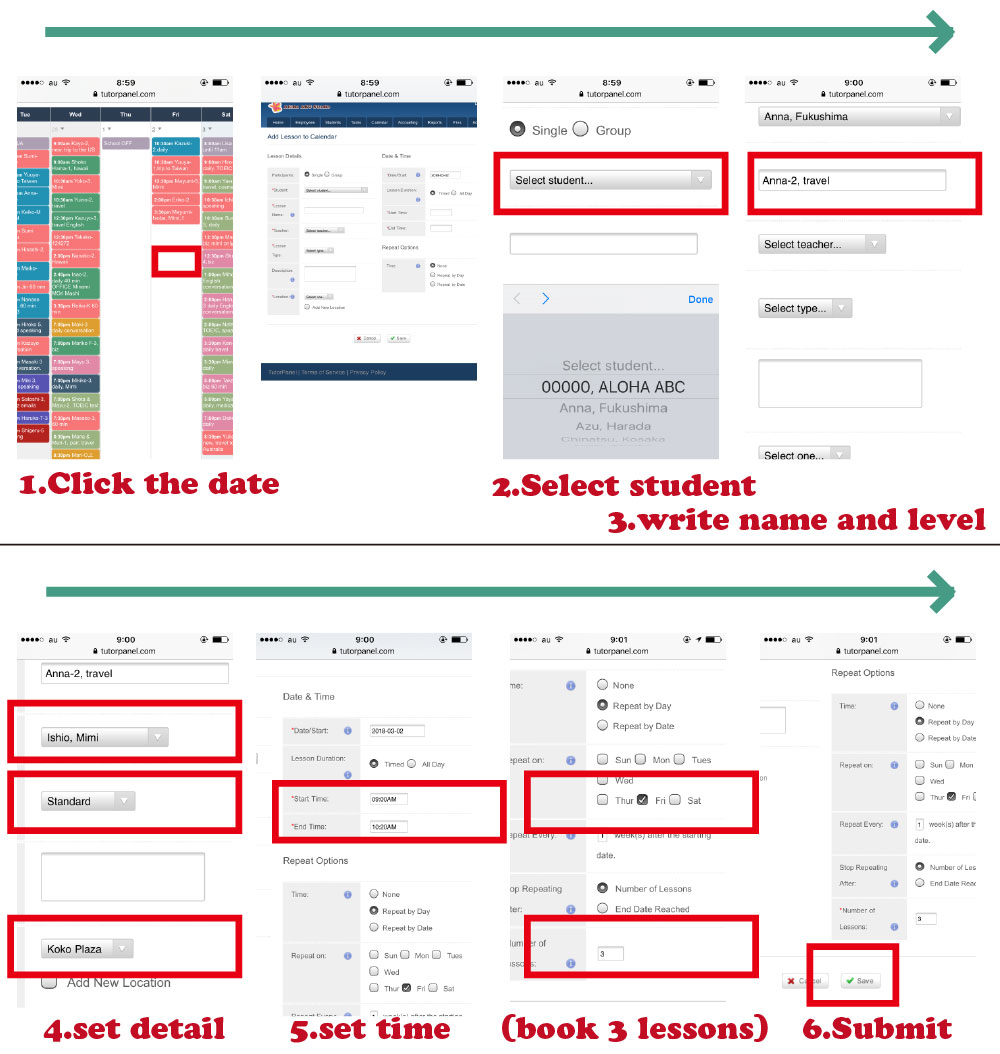 ---
【lesson time】

<Day time>
9:00-10:20
10:30-11:50
12:30-13:50
14:00-15:20
15:30-16:50

<Night Time>
17:00-18:20 (or 17:30-18:50)
19:00-20:20
20:30-21:50

I would appreciate it if you could avoid crowded times when you take lesson appointments for the next month.

For example, if there was an opening for 10:30 but 9:00 was fully booked,

then please ask students to book for 10:30, not 9:00 if possible.

 However, please don't put appointments on hold.

Please confirm (settle on) the dates in your lesson.

If there are any lessons we have double booked, I will contact students later, so please don't worry too much.
---
【After lessons】
1, Open the door for students & see them off there
Let them go out of the room first and then get ready to go home.
Don't follow them and walk to station with your students.
We won`t take responsibility for any trouble with students that takes place outside of the classroom.
2, Upload your reports
Please upload your lesson report papers to Tutorpanel after lessons.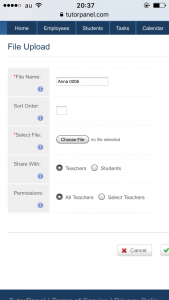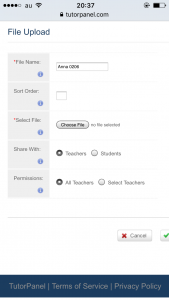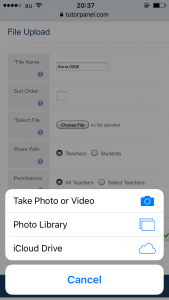 Once uploaded, please dot your report and put it into the blue file marked 'Already uploaded'.
If you don't have time to upload the report,
please put the report in the clear file marked 'not uploaded'.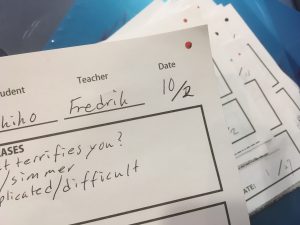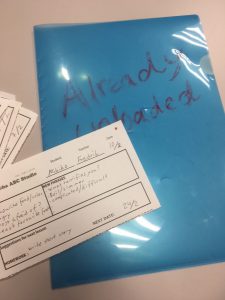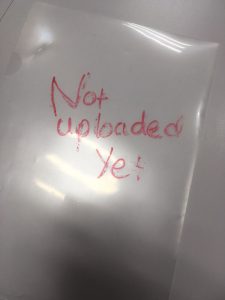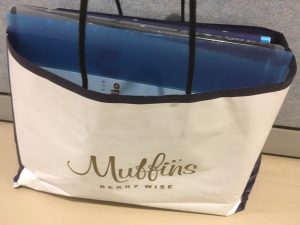 3, Return your key
Please return your key to the reception unless you have ■ mark on your calender.
(704■…pls leave the 704 door open after you finished)
---
【Submit Due Day】
1, Timesheet due day : e

very month 10th
Please send your timesheet to the paymaster email address, not to the info address.
2, Schedule submit due day :

every month 20th
Please mark your 'Not available date' on Tutorpanel.
Choose '00000, Aloha ABC' as student name
Choose 'Not decided' as teacher name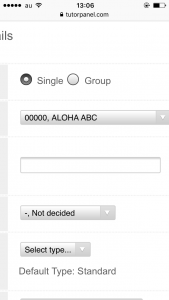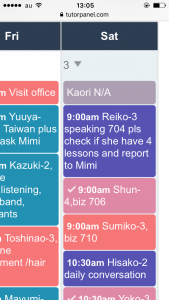 If you have additional dates you are not available after the 25th,
please notify us by Email, not only mark on Calender.
3, Payment day : every month 25th
Payment day always on 25th or before.
(You will get a Pay slip by the end of month)
【Lesson Material】
1, Paper material
You can find papers in the paper bag.
We appreciate it if you could share some papers if you found good ones.
Please don't use materials without our school logo as possible. (Especially new teachers)

Navy color file : Level 1-3
Black color file : Level 4-5
Blue : Medical lesson file
Clear color : Listening lesson file
Pink : Aloha Textbook file
2, Listening material
You can find listening videos here below, and papers in the paper bag.
https://tiare-lesson.com/movies/

【Desk work list】

1. Upload lesson reports
Please find reports from "Not Uploaded yet" file and upload them.
Once uploaded, please move it to the "Already uploaded" file.

2. Check student booking for next month (after 25th)
check students` names who haven't booked for the next month, and send the list to info@ address.

3. Posting leaflets
Please find our school leaflets on the black shelf next to the vending machine on the 1st floor.
Post those leaflets in apartments post in Shin-Osaka area.

4. Lesson schedule adjusting
check students` preference and appointed teachers list and assign teachers (pls change color on Calendar)

5. Write articles for SEO / Post on SNS

6. Check timesheet / Skype teachers schedule/ Visit clients
7. Pinaco other division task (pls let us know if you can help this)
---
---
Skype lesson (2020/04/08 – 2020/04/30)
send lesson topics before the lesson 事前にトピックとなりそうなものを送っておく(JPEG or TEXT)

start calling them (時間になったらコールをする)(※Call mimi if they didn't pick up)
use whiteboard or white paper rather than using comment box (to use lesson time efficiently) タイピングが遅い人は、△タイピング ◎白紙に書く(時間ロスを減らすため)
otherwise, copy and paste some important phrases which you prepare beforehand または事前に教えるフレーズを用意しておいてコピペ
lesson summary (1-2 mins) まとめ1~2分
check next lesson date & homework 次回レッスン日チェック、宿題を出す
hang up the line スカイプを切る
send pictures of white board 板書の写真を送る
send thank you comment 簡単なコメントを送って締める
【Lesson material】
(Copy and paste)
Coronavirus :コロナウィルス
◆lockdown:(都市の)封鎖
◆quarantine :隔離(する)・検疫(する)
◆case:症例(発症数)
◆death toll:死者数
◆outbreak:感染拡大、蔓延
◆epicenter:震央
◆evacuation:避難
◆evacuee:避難者
◆hazmat suit:防護服
例)More than 100 people have been infected in this area. (この地域から100人以上が感染しています。)
例)It has been reported that incubation period could be up to 4 weeks. (潜伏期間は長い場合は4週間ということもあり得ると報告されています。)
例)He has been in quarantine for the next 7 days as a close contact. (彼は、濃厚接触者として今後7日間隔離されています。)
例)No need of panic buying. (買占めする必要なんてない。)
◆免疫力:immune system
◆手洗い:washing hands
◆うがい:gargling throat
例)Please wash your hands and gargle your throat.  Vitamin C helps you strengthen your immune system.
(手洗いとうがいをして下さい。ビタミンCは免疫強化を助けてくれます。)
症状を表す表現:
What seems to be the problem?
What are your symptoms? どうされましたか?
I have a fever.
I have a sore throat.
I have a cough.
I cannot stop coughing.
I get short of breath.
I have a respiratory ailment.  (呼吸器の病気 )
Do you have disinfectants? (消毒薬を持っていますか?)
Can I use the disinfectant ?
Don't touch your eyes.
I wear a surgical mask to prevent droplet infection.
---
Aloha ABC Agent / Company training Section
/ Skype lessons / Tiare Division
Please read tutor-notes pages of each websites tutor rules.